Lunch Menus

Household Income Application Now Available!


Apply online at http://www.schoolcafe.com (free account creation required).
Click here for a list of menu items with their nutrients.
Please note: all items are subject to change.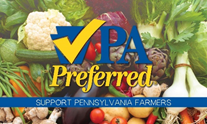 PA Preferred® is your resource for finding locally grown and processed agricultural products from the Commonwealth of Pennsylvania.
Pennsylvania Harvest of the Month (PA HOM) is a program developed by the Pennsylvania Department of Education and Project PA (Penn State University) to promote a local agricultural product each month through schools, child and adult care centers/day care homes, and summer feeding sites. The program aims to provide participants with local, healthy products while supporting Pennsylvania farmers and producers.
We are using PA Preferred and Pennsylvania Harvest of the month throughout our menus for the school year.