Financial Aid and Scholarships
All you need to know about financial aid - Guide to Financial Aid
Pennsylvania Student Aid Guide - Interactive Site - PDF Version
7 Steps to Financial Aid
Complete the FAFSA (Free Application for Federal Student Aid).
- Helpful information about filling out the FAFSA.
Complete PHEAA Form online to be eligible for State Grants and Aid. More information is available at the PHEAA website.
Contact the college's financial aid office and complete their forms.
Complete the CSS Profile if required. Check with the college.
Complete the WAHS scholarship application.
Sign up for eligible local scholarships in the Guidance Office.
Obtain student loan application - go to Federal Direct Loan Website.
To obtain state and federal money (grants and loans), one must file the FAFSA. Their are two ways to file. The first is using the link above to complete the FAFSA on line, which is perferred by the government, or by filing a paper applications. Paper applications are no longer sent to the Guidance Office, but you may obtain one by calling 1-800-433-3243. You may also print one from the website at http://federalstudentaid.ed.gov/fafsa_options.html Remember whien filing out a paper FAFSA, all questions must be answered (there is no "skip logic"), and the process takes considerably longer to complete.
We cannot emphasize enough the importance of filing the FAFSA on time. The Pennsylvania State deadline for the FAFSA is May 1st for a four-year program and August 1st for a two-year program; however, the college's deadline may be much earlier (in many cases it is February 15th). It is your responsibility for determining the college's deadline.

FAFSA
Federal Programs
State Programs
Loans
Scholarship Search Websites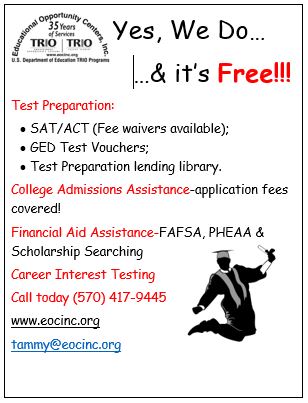 Useful Financial Aid Videos